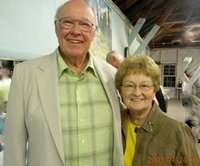 President Jack and his wife Debbie pause to reflect in the old dining hall.
The sun shone brightly this morning and there was a nice breeze in the air as many gathered for the final Sunday morning service and Pot Luck Luncheon. There will be one more sevice at 6 pm Sunday.
President Jack announced that "$40,000 has been raised toward the $50,000 campaign to tear down and rebuild the old dining hall. He added 'God is blessing Douglas Camp- great things are happening all over the grounds and in the Old Tabernacle and I am confident that with God's Blessing we will meet and surpass our goal".
He thanked everyone for" their support and vote of confidence" in what is being done to revive the Holy Grounds at DC and reminded all to continue to send in their pledges.
Jack and Debbie Cnossen provided an abundance of high energy and leadership and have done a marvelous job at camp this week. Doing what they call -God's Work, aided by a big effort from their son Mike Cnossen and his wife Christie. As in years past it takes many volunteers to do God's work.