Join us at Campmeeting 2021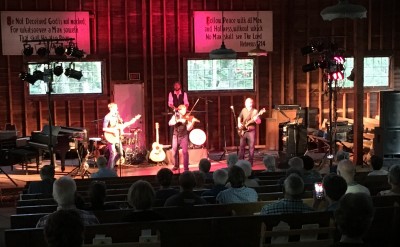 Sky Family Revival Ministry
Ministry of The Word and Worship throughout the encampment.
Contact our Registrar for accommodations - scroll down to see our rates.
Sky's Concert - 7pm Friday July 16th
2nd Annual multi-church Praise & Worship Celebration - 6pm Sat.July 17th
Hymn-Sing 10am; Services 10:30am & 6pm Sunday July 18th
Lunch followed by 12:45 Child Evangelism @DCM park
Testimony & Praise Gathering 2pm Sundays
- 7pm Monday July 19th
Volunteers & Patron's Appreciation - 7pm Tues.July 20th
Youth Night followed by Concert - 7pm Wed.July 21st
MIssions - Walking In Light - 7pm Thurs.July 22nd
- 7pm Friday July 23rd
- 6pm Saturday July 24th
Sunday July 25th same as first Sunday
Fellowship and purchase Refreshments after all evening services
Note: Recreational activities closed 10 minutes prior to all services & studies
Please limit public use of cellphones and we strongly urge no use by youth
Bookstore open 1/2 hour before & after services
Rest-rooms behind Dininghall are open 24/7 during campmeeting
SKY's REVIVAL MInistry at 2021 CampMeeting
The SKYS REVIVAL is a high-energy music and worship production performed by The SKY Family from Prince Edward Island, Canada. With their unique blend of fast-paced Celtic music, humor and testimony, the SKY Family engages audiences from coast to coast in heartfelt worship. Their message challenges people of all ages to a renewed dedication to follow Jesus. They are a true old-fashioned revival ministry. The group has toured from coast to coast since 2006 and have been featured guests on the national TV. At their home theatre on Prince Edward Island, their production has attracted thousands of visitors from around the world and their songs have been playing on over 250 radio stations across the US and Canada.

REVIEWS:

~ The Sky Family brought a breathtaking and heartwarming package to First Presbyterian Church last Saturday night. If you get a chance to see them, don't miss it! Paul Roberts, Music Director, First Presbyterian Church, Augusta, GA

~ The Skys were exceptional! The house was full and all who attended said, "Wow"! Most of all, God was honored and Jesus was glorified. I wholeheartedly recommend The Skys to any congregation or organization. Pastor Tommy Dennis, Oak Ridge Free Methodist Church, Herkimer, NY

~ The concert was outstanding! The quality of the music, the dance and the drama made for a night to remember. What made it so special was it was not just a night of uplifting entertainment, but a night of spiritual blessing. We fell in love with the whole family! Pastor David Reid, First Baptist Church of Reading, Reading, MA

~ Truly one of the best concerts I have ever been to. A fun, exciting, and professionally executed presentation which can be thoroughly enjoyed by everyone from toddlers to the older folks.. The challenge for Christians to walk closer with the Lord is powerful, winsome, and compelling. The Skys truly have a wonderful, effective, and unique ministry. I very highly recommend bringing the Skys to your church. Neil Knudson, Producer, WIHS Radio, Middletown, CT

~ The concert was a high-energy night of wonderful music, dance, and humor that was fun for the whole family. It was very Christ-centered and worshipful, as well. Pastor Barry Cureton, Liberty Reformed Presbyterian Church, Owen Mills, MD

~ The concert was such a blessing to the church! The atmosphere was entertaining but yet serious and convicting with a good mix of testimony, song and dance. A God honoring celebratory spirit was evident.
Pastor Doug Knowles, Valley Bible Evangelical Free Church, Haddam CT.
2021 Camp Schedule: July 16-July 25th
Bible Study: 10AM Monday thru Saturday
Weekday Evening Services: 7PM (music begins 6:45)
Weekend Evening Services: 6PM (Sat. & Sunday)
Sundays: 10:30 Service preceded by 10AM Hymn-Sing
6PM Evening Service
Please follow any pandemic protocols
Parents, please make sure that your children are with you and safe at all times
We will be updating this site daily during Campmeeting:
Prayer
7:30am Prayer at Pavilion
Evening Prayer 1/2 hour prior to services at Dininghall Porch
Sundays 2pm Testimony & Praise Gathering!
Family & Youth Activities
8:45AM - 9:45AM Monday thru Saturday
and Every Afternoon
including crafts, water games, bike hikes, yard games, swimming, service projects, outings
Wednesday Youth CONCERT after 7pm Youth Service!
"Campmeeting Crafters" 1pm-3pm Daily (all ages)
Sat. July 17th Basket Weaving Mon. 19th ___ Tues 20th Card-Making Wed.21st ___
Thurs.22nd Collage & Watercolor Fri.23rd Crochet Sat.24th Painting Wooden Figures
Also: Rock painting, 150th Anniversary quilt, ...
Mark your Calendar for July 16-25, 2021
Annual Meeting Sat. July 24th and new DCMA members received
145th Anniversary Commemorative Ornaments Available Now!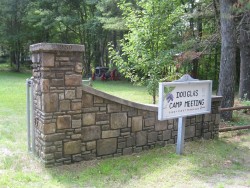 Where peace flows.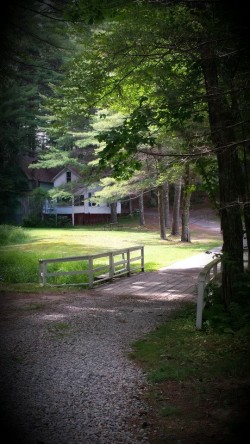 Leave your worries at the Bridge. (Photo by Romaine Sands )
Mark your calendars for July 16th to July 25th, 2021 and come to Douglas Camp to visit us for another holy week of seeking and spending time with the Lord's Spirit.

Kids programing will not be offered in 2021 but Family Events are.
7pm Week-Night Services; 6pm Saturday & Sunday Evening Services
Sunday Services
10:30 AM (Hymn-Sing 10am) and 6:00 PM
Bible Studies Daily 10:00 AM
Evening Services 7:00 PM (Saturdays/Sun. 6:00PM)
Prayer 7:30am and 30 minutes prior to evening services
If you wish to make a love gift please send it along (via mail or Venmo) so we can continue our work on these Holy Grounds.
Thank you for faithfulness and for helping us fulfill God's mission for Douglas Camp.

DIRECTIONS To Douglas Camp Grounds
GPS address: 25 South Street, Douglas, MA

From Rte 146: Take exit 3 (Rte 16). Head west.
Follow through East Douglas to Douglas center. At blinking yellow light turn left onto Rte 96. Douglas Camp Meeting is 0.5 mi on right.
Alternate entrance 25 South West Main St. Douglas, MA has plenty of parking.
Douglas Camp-Meeting abuts the 5,525 acre Douglas State Forest (hiking, biking, swimming, enjoying God's creation, ...)
Douglas Camp is an
Interdenominational
Christ-centered Camp-Meeting.
Everyone who desires more of The Lord is welcome!

In addition to our 146th Annual Douglas Camp Meeting,
July 16th -25th, 2021
we are also scheduling rental use of our facilities and camping area.
Retreats and other Christian events will enjoy the serenity of time with God and fellowship with others.
For almost a century and a half, these grounds have been set aside for seeking first Christ and His kingdom.
We also welcome individuals or groups to serve with us in keeping up our grounds and properties.
Some cabins are currently available to be adopted and cared for.
You may contact us at DCMA1875@gmail.com
Contracted Rental Rates as of May2021
Tabernacle $100/day
Dining-Hall $250/day ($150/half day)
Kitchen * $40/meal ($100 max/day)
* if no indoor cooking $20/meal ($40 max/day)
DH exterior bathrooms $25 each/day; $40/both
(no charge when dining-hall is rented)
Bath-house $75/day
Cabins $15/night
Tent $10/night
RV sites $12/night
Dorms $50/night
A/C electricity usage charge $5/day-night
Grounds Usage Fee $
Registrar: cabowden@outlook.com
DCMA Grounds Purpose & Usage Summary
- The purpose for those who stay at Douglas Camp Meeting grounds is for spiritual growth and outreach as well as to care for the properties/ministry.
- Parents must make sure their children are supervised and safe at all times.
- Calm pet(s) may be allowed by permission.
- Worldly activities, music, media, behavior, apparel are not permitted on DCM grounds – including smoking, alcohol/drugs, profanity. Unrelated couples are not permitted to reside together at DCM. Sabbath is honored as a gift from God.
- Individuals who use any authorized bathroom facilities are responsible for custodial care of their usage. Please notify us if supplies are short or repairs needed.
- Those who stay at DCM are responsible to remove their own rubbish from the camp. Also, snow plowing is not provided.
- Use of DCM kitchen is not permitted unless a rental agreement is entered into and a copy of their cook's ServSafe certificate is submitted to DCMA.
- Application/contract and Pastoral recommendation are required for any that stay at DCM (unanimous approval of the DCMA Executive Board required), other than during Annual Camp-meeting, as mature Christian character is essential.
- Our Founders stated, "… these grounds are to be held forever for holiness". Not only do we treat DCMA grounds as sacred, but consideration of others seeking-first Christ is appreciated.
Douglas Camp Meeting Association
P.O.Box 503 25 South St. Douglas, MA 01516