In addition to our 146th Annual Douglas Camp Meeting,
July 16th -25th, 2021
we are also scheduling rental use of our facilities and camping area.
Retreats and other Christian events will enjoy the serenity of time with God and fellowship with others.
For almost a century and a half, these grounds have been set aside for seeking first Christ and His kingdom.
We also welcome individuals or groups to serve with us in keeping up our grounds and properties.
Some cabins are currently available to be adopted and cared for.
You may contact us at DCMA1875@gmail.com
2021 Camp Schedule: July 16-July 25th
Bible Study: 10AM Monday thru Saturday
Weekday Evening Services: 7PM (music begins 6:45)
Weekend Evening Services: 6PM (Sat. & Sunday)
Sundays: 10:30 Service preceded by 10AM Hymn-Sing
6PM Evening Service
Please follow any pandemic protocols
Parents, please make sure that your children are with you and safe at all times
Join us at Campmeeting 2021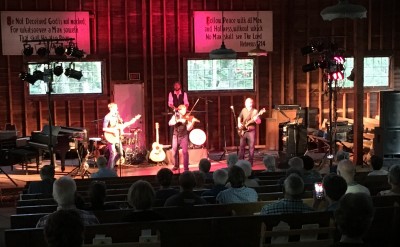 Sky Family Revival Ministry
Ministry of The Word and Worship throughout the encampment.
Contact our Registrar for accommodations - scroll down to see our rates.
2nd Annual multi-church Praise & Worship Celebration - 6pm Sat. July 17th
Youth Night - 7pm Wednesday July 21st
We will be updating this site daily during Campmeeting:
Prayer
7:30am Prayer at Pavilion
Evening Prayer 1/2 hour prior to services at Dininghall Porch
Sundays 2pm Testimony & Praise Gathering!
Family & Youth Activities
8:45AM - 9:45AM Monday thru Saturday
and every Afternoon
including crafts, water games, bike hikes, yard games, swimming, service projects, youth concert, outings
Under development ... Daily Crafts for adults each afternoon
Mark your Calendar for July 16-25, 2021
Annual Meeting Sat. July 24th and new DCMA members received
145th Anniversary Commemorative Ornaments Available Now!
Pastor David Dorn was the 2020 CampMeeting Evangelist
David Dorn was born in West Virginia to a Nazarene pastor's home. He was raised in the church until he rebelled against God in high school and ran hard from the call of God to preach the word. In the summer of 1997, the Holy Spirit convicted David in an encounter that changed his life forever. That fall David went to Bible college and there answered the call to preach. David has served in the Nazarene Church for over 20 years as Youth Pastor, Assistant Pastor, and Pastoring three growing churches.
David is a passionate preacher who loves God and has a deep love for people. Every sermon he preaches is a challenge to grow deeper in the faith. His greatest desire to see people saved, sanctified, and to make disciples for the Glory of God!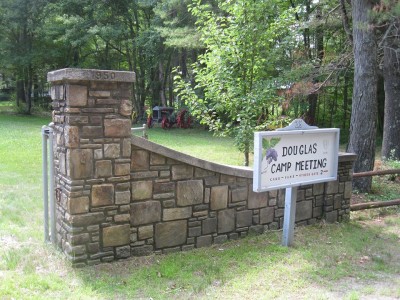 Where peace flows.
Jay Wisler was the 2020 CampMeeting Song Leader
Jay Wisler grew up singing the songs of the church. Throughout his most impressionable years, the truth of God's word through this music profoundly impacted his relationship with Christ. He has been leading in corporate worship for over two decades and has shared in song ministry along with his wife, Amber, since the late 90's. Jay has ministered throughout the United States in numerous camp meetings, revivals, worship services, and church events.

Jay has served as Minister of Music within the Wesleyan and Nazarene denominations and was commissioned for music ministry by the Wesleyan Church. He currently serves as a music instructor on the faculty at Kentucky Mountain Bible College in Jackson, KY. He holds an AA in Biblical Studies from Kentucky Mountain Bible College in Jackson, KY (2001); a BA from Asbury College (now Asbury University) in Wilmore, KY (2003); and a MM in Vocal Performance from Morehead State University (2009).The ministry of God through the Wislers includes Jay, Amber, and their three children - Caleb, Emily, & Tyler.
Pastor Flick Grezel was 2020 Bible Teacher 10AM Mon-Sat
"Pastor Flick Grezel and I have been friends for more than 25 years. He is one of the pastors I most admire. His life was radically transformed by God, which is why he is passionate about reaching lost, hurting, and broken people with the life-changing gospel of Jesus Christ. Flick is a man called of God who is both powerful in prayer and in the preaching of God's word. I am excited that he will be the Bible teacher for Douglas Camp Meeting 2020. I look forward to sitting under his anointed teaching." - Pastor Bob Howard, Valley Chapel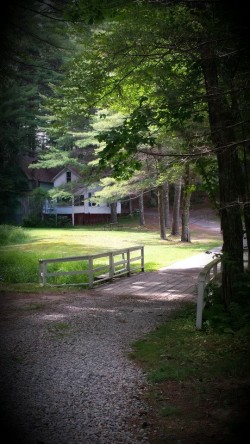 Leave your worries at the Bridge. (Photo by Romaine Sands )
Mark your calendars for July 16th to July 25th, 2021 and come to Douglas Camp to visit us for another holy week of seeking and spending time with the Lord's Spirit.

Kids programing will not be offered in 2021 but Family Events are.
Week Night Services 7 PM, Sat./Sunday Evening Services 6 PM
Sunday Services
10:30 AM (Hymn-Sing 10am) and 6:00 PM
Bible Studies Daily 10:00 AM
Evening Services 7:00 PM (Saturdays/Sun. 6:00PM)
Prayer 7:30am and 30 minutes prior to evening services
If you wish to make a love gift please send it along (via mail or Venmo) so we can continue our work on these Holy Grounds.
Thank you for faithfulness and for helping us fulfill God's mission for Douglas Camp.

DIRECTIONS To Douglas Camp Grounds
GPS address: 25 South Street, Douglas, MA

From Rte 146: Take exit 3 (Rte 16). Head west.
Follow through East Douglas to Douglas center. At blinking yellow light turn left onto Rte 96. Douglas Camp Meeting is 0.5 mi on right.
Alternate entrance 25 South West Main St. Douglas, MA has plenty of parking.
Douglas Camp-Meeting abuts the 5,525 acre Douglas State Forest (hiking, biking, swimming, enjoying God's creation, ...)
Douglas Camp is an
Interdenominational
Bible Camp-Meeting.
Everyone who loves the Lord is welcome!

Contracted Rental Rates as of May2021
Tabernacle $100/day
Dining-Hall $250/day ($150/half day)
Kitchen * $40/meal ($100 max/day)
* if no indoor cooking $20/meal ($40 max/day)
DH exterior bathrooms $25 each/day; $40/both
(no charge when dining-hall is rented)
Bath-house $75/day
Cabins $15/night
Tent $10/night
RV sites $12/night
Dorms $50/night
A/C electricity usage charge $5/day-night
Grounds Usage Fee $
Registrar: cabowden@outlook.com